Cathy is no longer working at Muzak. They sold off the CCTV division to Teknovation in Colorado; she switched to another position in Muzak until Teknovation recruited her. Yes, she still lives locally; part of the deal was for her to have the ability to work from home. She now works as the National Service Manager for Teknovation. It is a great opportunity for her.
Now officially: Cathy Potter :)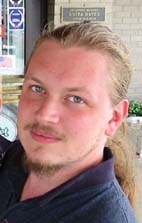 John: I'm still working for Micro Computer Center in Charlotte. I've been there for 7 years or so... too long I suppose but I'm happy. Brian (Bao) purchased the company from the old owner in 2001 and everything has been less stressful and working smoother than ever before. We've decided to stick it out at our current location regardless of the construction on Independence Blvd.


Which OS are You?
Junior turned 5 in February, it still seems he changes his personality on a daily basis. He has been diagnosed with ADD/ADHD but we have put off doing any medication. We're going to stick it out unless it's absolutely neccessary. So far no big problems. He's a good kid; everyone sees that. "Wormie" is still around; but no longer quite as important. He has been joined by a miniture "Big Head" stuffed dog.
Alicia turned 12 this last July. It still amazes me sometime how quick she is growing. She still lives in Lancaster, SC with her biological father. We get her more and more frequently it seems and we're not complaining. It is good having her around; and she still calls me Dad. She is still my daughter and nothing will change that. I've had to change my approach with her quite a bit over the last few years and sometimes we loose patience with each other, but she is still mine & I love her all the same.
Dexter is our cat. He is a cat, and always will be a cat. He thinks he's human, and has a shoe fetish (more on that later). I rescued him from being put to sleep 3 years ago. Originally intended for Cathy because she wanted a family pet, he has grown more attached to me and Cathy wants to kill him most of the time. He's a pain in the ass but we love him anyway. He was even included in our Christmas pictures in 2002.